This site designed by Cath.. copyright 2012........-2014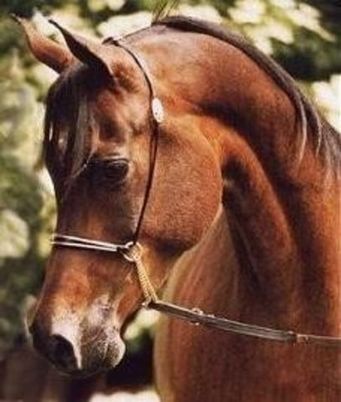 MB Satulahs grand dam Imperial Saturns dam
MB Satulah came to our ranch 2011 !! We are proud to have her here . She has a nice wedge shaped head ,almond shaped eyes( Satulah has only one eye due to an accident before she arrived here .. has big round hooves , no mule or club foot ,also her legs are straight well set . She is loving and such a great mom !!! She moves very nicely ,passing that on to her foals .Big big trot !!! MB Satulah is now in foal to Ravenwood Salvation for 2013 . We are looking forward to this as its our first Ismat foal .. We will keep you posted on the progress .
Double click here to edit this text.
MB Satulah is sired by Imperial Saturn , a 1994 United States National Top Ten Champion stallion, a 1995 and 1996 Egyptian Event Reserve Champion in Country English Pleasure Jr. horse and Open respectivelyas well as finishing 3rd on the cards in Region 9 Ladies Western Sidesaddle Open ( only his 2nd time shown in this class !) behind the National and Reserve Champions. He is also Multi-champion in western pleasure with several Halter championship tiltles . Imperial Saturn was sired by Ibn Safinaz a National Top Ten Stallion and performance champion. Ibn Safinaz sired the 1992 United States Reserve National Champion Futurity Stallion, Muzac, and a 1995 United States National Top Ten Stallion, MB Mistaz , as well as many other Champions both in performance and halter classes. His get continue to accumulate championships to his credit. Imperial Saturn is out of Imperial Mistilll, who has produced champion after champion earning the title of Imperial Egyptian Stud's most famous broodmare. Imperial Mistilll was sired by * Jamilll, a Multi-Champion and U.S. National Top Ten Stallion, a competitive dressage mount in Germany as well as sire of European and World Champions. Bred by Dr. Hans Nagel,Germany , and leased to Ansata Arabian Stud from 1983 - 1984. Perhaps the best son of the incomarable mare , Hanan, of Dr. Hans Nagel's Katherinenhof Stud. Hananis the dam and grandam of some very well - known arabians and her influence spans the World. In her lifetime, she produced 11 foals, including the aforementioned * Jamilll. She is the dam of Asfour, of the famous Simeon Stud in Australia. Asfour is the sire of World Reserve Senior Champion Stallion, Simeon Sadik and Ibn Galal I, the sire of *Ibn Galal 1-7, a United States Top Ten National Champion Mare . Hanan is also the dam of Salaa El Dine the sire of the more recent import , * Shahir, who is also a multi- champion stallion. * Jamilll's sire is Madkour I the 1972 and 1982 National Champion Stallion of West Germany as well as a Multi-National Champion producing sire. Imperial Mistilll's dam is Ansata Nile Mist who was sired by the first straight Egyptian United States National Champion Stallion, Ansata Ibn Sudan. Ansata Nile Mist was out of Falima who was sired by the very famous and Multi- Champion National Top Ten Stallion * Ansata Ibn Halima.

MB Satulah is out of Nahifah Shulah whos was sired by El Saqlawi, sire of just 13 foals while owned by Glorieta Ranch before being exported to Mexico in 1988 as a 10 year old stallion. El Saqawi was sired by * Ibn Moniet Nefous who was imported in 1965 to the Untited Staes by Jay Stream then sold to Jarrell Mc Cracken of Bentwood Farms. He was the result of breeding a Moniet El Nefous grandson, * Morafic , to his own grandmother , Moniet El Nefous ​​. * Ibn Moniet El Nefous was a U.S. National Champion Top Ten Stallion, multiple Class A Performance champion and a sire of 426 foals including Al Nahr Mona Lisa dam of Bay Halima who was sire of Bint Hafarrah . *Ibn Moniet El Nefous also sired the incomarable Fa Moniet, dam of prince Fa Moniet of Ansata Arabian Stud and sire to countless champions and broodmarres to the extreme. Other notables include AN Monsanto ( sire of 160 foals), AI Nahr Montino exported to the UK, AK Monazarra , AK Monazera , AK Monilita , DG Monietta , Monaserra , AN Mona all six exported to Brazil, Bint Monisa exported to Argentina , Na Ibn Moniet ( sire of 122 foals), Mohafez exported to Germany then Hungry (sire of 135 foals), Dareeba exported to France then to Germany , AK Nadira exported to Argentina, Della Moniet exported to Brazil then Argentina, Moniet El Sharaf ( sire of 516 foals),and notably, Imperial Phanadah dam of Imperial Pharaj exported to Morocco then Italy , Imperial Phanilah exported to Qatar and owned by Al Shaqab , Imperial Imphayana exported to Isreal, Germany then the UK, and Imperial Impharida exported to Qatar to name a few. El Saqlawi was out of the mare * Hoyeda who was bred by the EAO under the theory of " Let the dam of the dam ( Moniet El nefous ) be the granddam of the sire (* Morafic)". She was importedby Douglas Marshall ( Gleanloch Farms) in 1965as a 2 year old and was dam of Moniet El Nafis, owned by Imperial Egyptian Stud, then exported to Argentina by Count Federico Zichy-Thyssen. He was a multi - champion in English Pleasure, Driving and Halter ,also sire of 219 foals including ZT Ali Baba +/a $54,000 + race winner and MHF Eclipse a $9,000+ racewinner that expired too soon. He aslo sired beautiful daughters such as Imperial Mystique who produced Imperial Imballora , a well - known excellent broodmare for Imperial Egyptian Stud . * Hoyeda will be found in the pedigrees of athletic and beautiful horses the world over . Nahifah Shulah's dam ( Sar Mirwan Abriel) was sired by Sar Fa Rafic , who appears to be bred under the " breed the best to the best " theoryas his sire and dam were both US National Champion horses. However popular that theory , Sa Fa Rafic sirred just 35 foals in his lifetime and the author continues to search for further information about him and his get. MB Satulah's maternal great-grand dam JulyAnne was a full sister to Fadaan , a 1971 grey stallion for Rahza - Thomas Arabian Farm. In the book " The Babson Influence: A Retrospective" on page 207 , it states in parts "General Dickinson bred Gulastra to * Aziza resulting in the birth of the very important sire Julep (1939), who sired Julan in 1958from the Babson mare Bint Maaroufa .... This mating established the first "Bason -Brown " blend.....". On page 47 , its is noted that Julep was owned by Cedardell and , "Like * Fadl , is a maternal grandson of the famed mare , Negma , dam of *Roda who was a Reserve National Champion in 1933 . Negma was also a half sister to * Nasr, who was a Reserve National Champion Stallion 1933 and 1934 ". On page 27 , it mentions that Fa Aana was bred to Hallany Mistanny ( Hallany Mistanny had just one straight Egyptian offspring and that was Mist Aana) twice , producing a gelding and a ...filly , Mist Aana who became the matriarch of the Babson /Brown bloodline and the rarer varient , Babson / Hallany Mistanny ." From Mist Aana's daughter Julyanne ( Amira's great-great maternal grand dam) trtacing back to the import of the * Bint Bint Sabbah branch of the EL Dahma family of Ali Pasha Sherif , the females have been Babson /Brown bred noted for extreme athleticism ,friendly dispositions and overall good structure .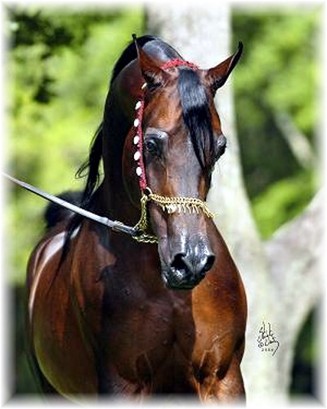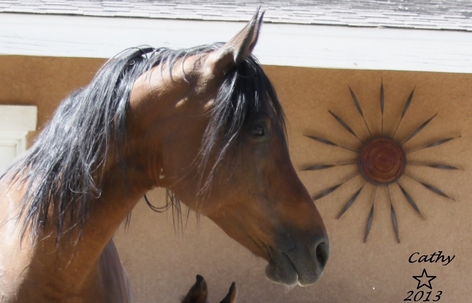 Click on picture to go to photo page